Match Reports, 15th and 16th of October 2016
Sean O'Kelly presents Match Reports from last weekend's hockey games, with thanks to Ben Leeming, Poppy Buckley, Alex Cooper, Mandy Warrilow, Laura Latarche and Andrew Simpson
Men's 1st Team (Saturday)
v. Chapeltown 1 (home), written by Ben Leeming
Lost 5 – 4 (Goal scorers: Rob Johnstone [2], Ian Ferraby, George Johnstone)
"It was a game of two halves"
Lindum Mens 1s featured in what can confidently be described as an excellent game for the neutral this week. The first half was near-total domination for Lindum and it only took ten minutes of intense pressure for the visiting side to buckle. A far-post deflection routine from the first penalty corner yielded a goal for Rob Johnstone, temporarily putting a smile on his face. Minutes later, the younger Johnstone scored again, quick play from desert fox Ric Corbett gave him a simple finish at the back post. Pressure on the Chapeltown goal continued, the next chance came from some lovely one-touch play down the left leading to a penalty corner which was deflected into the net by an unfortunate defender, unable to stop the powerful drive from Ian "Mad Dog" Ferraby. Lindum attacked relentlessly and could have scored many more in the first half, but they had to settle for 4-0 at the break. Some lovely play in a confined D allowed George Johnstone to round the keeper and slot home on the 28-minute mark. Half Time – 4-0.
Then the second half happened. The momentum completely switched and Lindum were on the back foot from the off and on 42 minutes Chapeltown had scored their first, a reverse stick shot from the top of the D, following a short corner. A minute later, they scored again, loose marking allowing a tap in at the back post. A minute later, they scored again, a Mike White drag flick struck the crossbar and rebounded to a Chapeltown player on the 23, they raced up the pitch and finished after the first shot rebounded to a forward. Both teams began accumulating cards as the game got more and more tempestuous and Chapeltown drew level just before the hour mark after a turnover in the Lindum half. Soon after, Chapeltown completed their reversal, scoring another low reverse stick shot shortly before the full time whistle. Full Time – 4-5.
Team: Matt Ward (GK), Ben Leeming, Matt Ingram, Ian Ferraby, Tom White, Ben Treadgold, Mike White, Sam Temple-Baxter (Capt.), George Johnstone, Rob Johnstone, Ric Corbett, Harry Swift, Louie Sadler, Gary Johnson
Head Coach: Gary Johnson
Team Manager: Sean O'Kelly
Men's 1st Team (Sunday – EH Trophy R1)
v. Didsbury Northern 1 (home), written by Ben Leeming
Lost 1 – 3 (Goal scorer: Ric Corbett)
"Lindum's under 18's impress in tough cup match"
For most it was the second game of the weekend, but for many of the under 18s in Lindum Mens 1s it was their third. That didn't stop the team from putting on a decent performance against good opposition on Sunday afternoon. It was a tight first half, the more defensively minded approach from the home team kept things relatively tight at the back, aided by the experienced Mark Sadler and his 40" wand. That being said, there were some chances for each team, highlights including German Alex hitting the post after some alert intercepting, some poor short corners from Didsbury, a rare cameo from former player Gary Johnson, and a long-range deflection, diverted just wide by Angus Graham. HT 0-0.
An early green card for Swift started the second half inauspiciously but once back he resumed pestering the Didsbury left-back and was unlucky to see his shot saved. A flurry of penalty corners for Lindum were unsuccessful. Didsbury responded with several short corners of their own and their first goal, a tap in after some sloppy defending. They followed this up with a converted short corner, the low flick finding the corner and then another quick break from a Lindum defensive mistake. Lindum rallied but could only produce a consolation goal, a rebounded shot finished with pizazz by Ric Corbett. FT 1-3.
Tom Rounsley (GK), Mark Sadler, Ian Ferraby, Ben Leeming, Louie Sadler, George Johnstone, Mike White, Sam Temple-Baxter (Capt.), Harry Swift, Rob Johnstone, Ric Corbett, Angus Graham, Alex Bernstein, Cam Foster, Barnaby Buckley, Gary Johnson
Head Coach: Gary Johnson
Team Manager: Sean O'Kelly
Ladies 1st Team
v. Bury St Edmunds 1 (away)
Won 2 – 0 (Goal scorers: Becky Riley, Emma Geary)
Men's 2nd Team
v. Boston Spa 1 (away)
Lost 2 – 4 (Goal scorer: Alex Bernstein, Ben Bockett-Pugh)
Ladies 2nd Team
v. City of York 4 (home) written by Helen Clarke
Drew 1 – 1 (Goal scorer: Leanne Richmond)
This was a battle from the first whistle with both teams playing with determination throughout. Lindum had the majority of the possession but it was City of York who scored the first goal, which was technically an own goal, during the first half. The match continued with Lindum producing fantastic fluid passing using the full width of pitch but this was sadly offset by crowded play in and around the offensive D. Shortly after half time we gained a series of short corners and had the chance to try a new set piece. We narrowly missed the goal but will definitely be using it going forward. Although we played well over half the match trailing one goal down we never gave up and our work rate was impressive. Our resilience was finally rewarded with a sneaky goal from Leanne Richmond.
We came away with a draw after a run of wins but this was a great game played with fantastic team spirit from both teams. Many thanks to Matt Ingram for lending his support and time on the sidelines.
Man of the match was Kirsten Parslow.
Men's 3rd Team
v. Tadcaster Magnets 1 (home)
Won 5 – 3 (Goal scorers: Ant Gorman [3], Will O'Sullivan [2])
Ladies 3rd Team (Saturday)
v. Sheffield University Bankers 3 (away), written by Poppy Buckley
Won 3 – 2 (Goal scorers: Poppy Buckley, Gemma Barnsdale, Lindsay Pritchard)
After a long drive to Sheffield we started off quite slowly and it took a while to get used to the pitch and get going. This led to the Sheffield side breaking through and scoring in the first fifteen minutes. Luckily we then found our feet and began getting inside their 25 a lot more and Lindsay Pritchard met the post like she has in the past few matches. Later on in the first half Lindsay Pritchard crossed it in and Poppy Buckley deflected it into the goal. After some conferring between the umpires as to whether it was a goal or a penalty flick this meant we went into half time at 1-1.
Knowing how to improve, we came out aggressively for the 2nd half and had more chances but unfortunately there was a quick goal from the opposition meaning we were losing 2-1. There was then some great passing between Caroline Taylor and Kerry Rough before a sweep finish by Gemma Barnsdale to level the scores, 2-2. Sheffield then began an attack but we quickly turned it over and got into their D. Everyone was willing the ball forward including Caroline Taylor showing exceptional midfield skill gaining her man of the match title when Lindsay Pritchard then managed to touch the ball inches over the line gaining us a 3-2 lead. We then held on well for the last 10 minutes and there was a couple of attacks from Sheffield leaving Nicky Desmond defending and taking over as goalie for a minute and saving their shot.
Overall it was a good battle and very pleasing to win, especially for Sharon Smith with her first ever Lindum Hockey Club victory!
MoM- Caroline Taylor
Ladies 3rd Team (Sunday – YHA Yvonne Horner Shield R1)
v. Doncaster 3 (away)
Lost 0 – 3
Men's 4th Team
v. Sheffield Hallam 6 (away), written by Alex Cooper
Drew 0 – 0
On the back of a dominating performance the week before, that ended in a loss, the Men's 4th Team travelled to Abbeydale in Sheffield to make amends and get their season back on track. The squad consisted mainly of defenders so disparaging comments about attackers were high on the agenda even before the team got onto the pitch.
The game itself was an entertaining affair. While neither team scored in the first half, the game saw plenty of breaks from both teams, though Lindum's ability to keep possession of the ball once it got over the half-way line could have improved. Captain Billy Marwaha certainly made sure that everyone knew that during his half-time team talk.
The second half continued in much the same vein; both teams came close to scoring but neither quite managed it. New player Arun got himself green carded with about ten minutes of the game remaining and then Ben Nicholson (realising late on that Sheffield Hallam have a link-up with a local University, which always winds him up) went and joined him on the bench following a slight disagreement with an umpire's decision. This had now become two umpire decisions that Ben disagreed with in short succession. Leaving Lindum with nine players on the pitch put the team under quite a bit of pressure and with Andrew Taylor dropping back from the midfield to cover, and a great couple of saves from Pete Richards – keeping a clean sheet, the final whistle blew without a goal being scored.
Man of the Match was keeper Pete Richards while Ben Nicholson took the honours for D*** of the Day.
Ladies 4th Team
v. Grimsby 2 (home), written by Mandy Warrilow
Won 3 – 0 (Goal scorer: Cathy Burgess, Amber Jenkins, Elin Thomas)
Great team effort by the Lindum Ladies 4th team this week – good passing, good communication, good movement and good support for each other.
Having lost the toss, Lindum started the game facing the setting sun, low and in our eyes but this didn't stop our focus on getting the ball up field and after some great play and pressure in the Grimsby half Cathy Burgess opened the goal scoring for the Ladies. 1-0.
Half time and Jo McGrath was delivered a note from coach Tom, who had been making notes on the sidelines, and KP. Feeding off oranges and motivational words from both Captain and Coach/KP the ladies re-grouped for the second half. Marking tight at the back and pressing up front soon paid off when Amber Jenkins to make it 2-0. Lindum keen to keep hold of this 2-0 lead, made sure everybody marked up and closed down on any loose ball from Grimsby, press after press and tight marking at the back ensured Nicola (Goalie) was going to have a quite game. On the rare occasion Grimsby got a chance – Nicola was on it. More pressure from Lindum, even Jo playing at LB made a few surges to try and add to the scoreline but it was Elin Thomas who took a pass from Evie Thorne and popped goal number 3 in for Lindum. 3-0.
Game finished 3-0 and off to the club house for tea and player of the match nominations received for Amber, Caroline and whole team.
Men's 5th Team
v. Hull University 2 (home)
Lost 4 – 0
Ladies 5th Team
v. Hull Hawks 2 (home), written by Laura Latarche
Won 2 – 1 (Goal scorers: Kate Andrews, Alexia Paige-Graves)
A reasonable first half with 2 goals disallowed saw the score line reach 1-1 at half time.
Reorganising in the 2nd half meant that Lindum came out much stronger and capitalised on this with a goal to win the game 2-1.
A great match against a fair side – Lindum really pulled together as a team in this game.
MoM – Kate Andrews
Men's 6th Team
v. Slazengers 3 (home)
Lost 9 – 0
Men's 8th (Development) Team
v. Sheffield Hallam 9 (away)
Lost 4 – 2 (Goal scorers: )
Under 18s: Boys (EH Boys U18 Cup R1)
v. Cambridge City Boys U18 (home)
Lost 5-3 (Goal scorers: George Johnstone, Cam Foster, Angus Graham)
Under 16s: Girls (EH Girls U16 Championship: Midlands League 4)
v. City of Peterborough Girls U16 (home), written by Andrew Simpson
Won 3-1 (Goal scorers: Gemma Barnsdale [2], Eve Wilson)
The new U16 girls squad had an encouraging start to their England Hockey U16 Championship campaign with an impressive 3-1 victory against the City of Peterborough. Lindum were first to score, with Gemma Barnsdale finding a goal through the determined Peterborough defence.
Peterborough drew level after a short corner mid-way through the first half – but Lindum defended well against sustained Peterborough pressure to reach half time on level terms. The second half saw some excellent finishing from open play leading to two Lindum goals, with Eve Wilson and Gemma Barnsdale both scoring. The whole team delivered strong performances, and can be justly proud of their victory. The girls are looking forward to their next match at Saffron Walden on 6th November.
Keeping you up to date
Club News & Alerts
Our Sponsors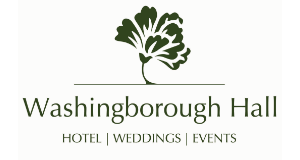 Washingborough Hall Hotel is a stunning early-Georgian building set in three acres of garden and woodland and offers a 2 AA award winning restaurant
Find Out More