Juniors: Long Sutton Tournament 7th of October 2012
Monday, 22nd of October 2012
This was posted by Lincoln Hockey Club prior to the creation of Lindum Hockey Club

Lincoln Under 14 Team A
I don't know about the rest of you but I am not sure I enjoy leaving my house at 8am on a Sunday as well as every other day of the week, however as the fog lifted, that is the fog in the sky not in my head, another beautiful day dawned bright and sunny, what could be more perfect than a day of hockey!
It is so nice to see so many parents supporting their children and each other at these festivals, and is so much better than when I first became involved in the junior side of our club a few years ago, hopefully this will carry on in deepest, darkest, winter when frankly I could do with playing myself in order to keep warm!
We had two teams out this weekend, and in all honesty I was not quite sure what to expect in terms of results. I need not have worried. The first game the A team played was against a very keen team, but not as fluid on the ball as ours. It became apparent over the ten minutes that our usual slow start was not with us today and all nine players in the team:- Matt, James, Jack, George, Sophia, Tom, Louie, Sam and Barnaby, took the game to the opposition, passing and moving beautifully, winning the opening game three nil. What a start! The second game was much harder with only one goal being scored, thankfully by us. At this point I had to work hard to explain that they had played better in that game, despite a lower score, people were in better positions, the ball was played back well instead of just trying to go forward. So the third game was started confidently, only to go down in the first minute, to a good interception and strike from the centre pass. Not disheartened, a great piece of play initiated and then finished by James brought the score equal quite quickly, sadly not long before the final whistle a second and decisive goal was scored by Alford to win the game. The final game was against a rather grown up team from Spalding who played the ball around brilliantly, a game that our team lost three nil, but played some of the better hockey on the day. Two great strikes from their forward, producing two unstoppable goals for Matt. Nevertheless, compliments from the opposition coaches came freely for some of the excellent saves that he had made during the course of a couple of the games.
I think the team were for a few moments a little disheartened with playing 5, winning 2, drawing 1 and losing 2. However, I witnessed some lovely hockey from them throughout the day, they were one of the youngest teams in that pool, and they were by no means outplayed in any of the games. There were massive positives for each player, great awareness and passing from Louie, very solid defence from Jack and George, sneaky moving and running onto the ball from Tom, some lovely stick work that often resulted in the ball being put onto the feet of the opposition from Barnaby, great movement in midfield from Sam and James (when not defending) and excellent tackling of mush bigger stronger players from Sophia. As for Matthew, some fantastic saves and a very mature approach to organising the defence. I very much look forward to next time.
Caz May
Lincoln Under 14 Team B
The first Lincolnshire Under 14 Tournament was held at Long Sutton on a hot sunny day on Sunday.  The B Squad, just 8 in number, Tom Rounsley, Ryan Vaughan, William Cragg, Sam Roberts, Libby Thorn, Caitlin MacLeaning, Sam Gilbert and Kate Andrews. First game against Bourne Deeping B, our side was a bit disorganised and players not totally clear of their responsibilities but put in plenty of effort. Result a 2-0 loss.  Having learnt alot from their first game they then played Bourne Deeping A and had a much better game loosing 1-0. Third game saw a further improvement drawing 0-0 with Long Sutton. The teams confidence was raised by their great efforts in this game and the structure and general play had definitely improved.  This showed in the next game which resulted in a 1-0 win against Boston, a good chase up the right by Caitlin who secured the ball and after a few strides into the D made a good pass to Ryan who slotted the ball home.  Could it get better – yes it could.  Last game against Spalding Lions saw us go one up from a good strike from Ryan again.  Then a penalty flick awarded against us saw the opposition goalkeeper make an unstoppable flick past Tom.  Determined to get back in the lead the midfield surged forward and after some good passing an excellent sweep shot by William saw victory secured.
An excellent performance from all the players with the back three of Tom, Kate and Libby working hard together to block out the opposition attacks.  The team improved in every game and with a final result of W-2, D-1, L-2, the team can be proud of their excellent performance which can only get better in future tournaments.  Well done to all the players and a bib thank you to all the parents supporting the event.
Peter Rushmere

This was posted by Lincoln Hockey Club prior to the creation of Lindum Hockey Club
Keeping you up to date
Club News & Alerts
Our Sponsors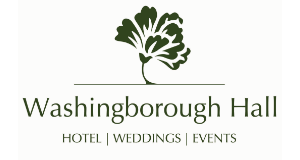 Washingborough Hall Hotel is a stunning early-Georgian building set in three acres of garden and woodland and offers a 2 AA award winning restaurant
Find Out More