Weekly Hockey Roundup – Ladies' Teams
Thursday, 22nd of January 2015
This was posted by Lincoln Hockey Club prior to the creation of Lindum Hockey Club
Last Week's Results
| | | | | |
| --- | --- | --- | --- | --- |
| Team | Opposition | Location | Result | Scorers |
| Ladies 1st Team | Wisbech Town 1 | Away | Lose 1 – 0 | |
| Ladies 2nd Team | Spilsby 1 | Home | Win 7-0 | Rigby, Wing, Pell-Reynolds |
| Ladies 3rd Team | Louth 2 | Away | Not played | |
1st Team Match Report
Saturday started with a phone call from Wisbech to discuss the details from their initial pitch inspection. Whilst it was frozen, the sun was on it and it was de-frosting pretty quickly – decision made – game on. We travelled light, with some key senior players missing, but spirits were high despite the temperature staying very low! The pitch was indeed playable by the time we arrived. Pre-match preparations were good, we sent Bev to the home team changing rooms to perform her personal pre-match routine, but she got 'stage fright' and returned in much the same state as she left. Maybe that's why we lost?!!!!
The game started at high pace, and we were defending for most of the early period. Despite a good defensive spell, we got ourselves caught from a 16 hard hit out position and ended up gifting Wisbech the ball at the top of the 'D'. A short corner was the result of their penetration, which we defended – but at the cost of conceding a second short corner. This one was, unfortunately, converted by Wisbech and we found ourselves 1 -0 down after about 10 minutes of play.
We responded well as a team, and had the vast majority of the attacking play for the remainder of the second half. We had a short corner of our own, but couldn't find the backboard. The second half followed a similar pattern – we had the majority of the attacking play, more of the opportunities on goal, but to no avail. So despite our very best efforts, the final score stayed 1 – 0. I had a minor heart attack as a ball switched across the back towards Penny – but she was busy pointing Libby into her preferred position rather than looking at said ball – the team cry of "Penny!!!!!!!" did the trick though, and she picked the ball up as if nothing was wrong. Frustrating and quite disappointing for us in that the score was not an accurate reflection of the game and most certainly did not reflect our efforts. Unfortunately this appears to be a common theme for us this season!!
Girlie of the game was a joint award to Sarah and Megan, whilst Libby picked up the Dick of the Day vest for thinking that grapes grew on trees.
2nd Team Match Report
I think it is fair to say that it is definitely winter at the moment! Another Saturday morning of lovely bright, freezing weather. Very cold at junior training, but thankfully a very obvious thaw at about five past ten made me sure that we would be okay by one thirty. You are all very keen beanies with texts to check we were still on, well I will take it that way! Ha ha!
Our opposition this weekend was Spilsby. I have always thoroughly enjoyed these games, even though the style of both teams is completely different, we seem to get through with lots of smiles, politeness and a great atmosphere, this game was no different. A strong twelve again this week, and a confidence growing amongst us that we can do this again, the challenge is to play nice hockey, smart passes, and work on the skills that we are gaining at training. Lovely to once again, have some supporters, I won't list everyone, but hugely appreciated, thank you.
A fair summation of the first half would be periods of lovely play mixed in with parts we can work on! Sometimes we are a little bit too quick to try to force a situation where as Mark says possession is the key. We have the skills and the ability to make time on the ball, release it quickly when necessary, but also hold the ball up when required. The trick at the moment is to get these bits the right way round! The opposite being holding on to a ball for too long and rushing a shot when time would make it cleaner and better. I am confident that we have all of the ability needed to get this right for all of a game. It is clear to see that even when things are not quite clicking what is ever present is a team spirit that I love to see in my team. People work for each other and try hard to cover one another, fab!
A team talk at half time, exactly what we needed, straight to the point from Mark, saw a rise in effort, a greater positional awareness from all of us on set pieces. Our press although not far off on occasions was tightened up and enabled us to encourage Spilsby to play the ball where we wanted them to, thank you. Our own hit outs saw players in more useful positions, and higher up the pitch when defending as a group, a lovely drifting movement, which even though only slightly enhanced from previously, makes all the difference in terms of cutting out passes, squeezing the opposition in and encouraging interception of the ball in a favourable position for us.
The sun turned out to be the biggest threat for both teams in the second half, taking up a position in the sky that was somewhat blinding at times, but welcome all the same!
The score this week was three nil to us, at times I felt we should have had more, we had several opportunities to make a bigger impact, but some good defence, some well timed saves, and a couple of miscued shots kept us at three. Equally Spilsby I sensed thought they were in with a chance of a goal, had a few close attempts, but had forgotten how determined our defence is, Kayleigh saving several whilst in the floor with Becky amongst others diving in behind her with her stick to ensure nothing could creep over our line. We have a very good record in defence, long may it continue.
Goals this week were from Laura, a rebound strike, Megan good footwork and a deft pop in at the right post and Charlotte, again, watch out Gemma, getting close at the top!!
Girlie of the game votes were quite rightly shared between six players this week, and there were probably arguments for more than that, however final honours were shared between Becky and Kerry, well done everyone.
I don't know about anyone else but I am thoroughly looking forward to this week's game against our third team. They have been playing beautifully recently and are gaining some excellent results, particularly last week against Spalding (II) team. Let's bring out our A game this week ladies. See you all on Wednesday night, fingers crossed for no rain and not quite as cold, weather forecast is a dumping of snow!!!! Hee hee. Have a great week, Caz. Xx
Next Week
Ladies 1st Team vs. Letchworth
Location: Lindum
12pm Push Back
Ladies 2nd Team vs. Lincoln 3rd Team
Location: Yarborough
2pm Push Back
White shirts and white socks
Ladies 3rd Team vs. Lincoln 2nd Team
Location: Yarborough
2pm Push Back
This was posted by Lincoln Hockey Club prior to the creation of Lindum Hockey Club
Keeping you up to date
Club News & Alerts
Our Sponsors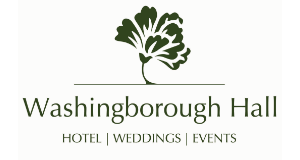 Washingborough Hall Hotel is a stunning early-Georgian building set in three acres of garden and woodland and offers a 2 AA award winning restaurant
Find Out More