Match Reports, 1st of October 2016
A bumper-turnout of match reports this week from Ben Leeming, Libby Thorne, Chris Hearn, Helen Clarke, Kerry Rough, Alex Cooper and Laura Latarche, and compiled by Sean O'Kelly.
Mens 1st Team
v. University of Liverpool 1 (home), written by Ben Leeming
Won 6 – 0 (Goalscorers: Ben Treadgold, Mike White [2], Rob Johnstone, Dave Knowles, Matt Ingram)
The University of Liverpool produced a win last week against Lancaster and Morecambe, but received a very different welcome at the Lindum Fortress.
There was another early goal for Lindum in their first home game of the year, new recruit Ben Treadgold finished a close range reverse stick effort 4 minutes in. There was no quick reply from the opposition this week and Lindum had the game almost entirely their own way for much of the half. There were numerous chances for Lindum early on and the sustained pressure led to a flurry of cards for the visitors. Half-marathoner Ian Ferraby, not content with just playing hockey the day before the race, disadvantaged himself further by taking a stick to the head in defence of the Lindum goal. After a strangely contested bully, calmly won by returning defender Tom Saunders, Lindum doubled their lead through a Mike White drag flick. HT – 2-0
Not content with their lead as it stood, Coach Johnson pressed the need for more clinical finishing. The team listened, scoring through a quick one-two penalty corner routine, dispatched into the corner without the need for any stick blocking by Mike White. Lindum exploited the space left by the Liverpool defence throughout the game, breaking with speed and using the width of the pitch well. In a largely quiet game for him, Matt Ward proved his alertness with a couple of double saves in both halves, one of which was captured perfectly by the cameraman – one for the highlight reel surely. A quick break down the right gave Lindum their fourth, with George's brother Rob Johnstone rounding the keeper to dribble the finish over the line. He was denied his second and Lindum's fifth as his shot was shepherded over the line by Dave Knowles. The game was rounded off in style by marauding wing-back and fellow half-marathoner Matt Ingram. His solo run gave him the chance to finish from an improbable angle for his first of the season. FT 6-0
Team: Ward (GK), Ferraby, Saunders, T. White, Leeming, Ingram, Temple-Baxter (Capt.), M. White, Treadgold, Knowles, R. Johnstone, G. Johnstone, Swift, *Johnson*
Head Coach: G. Johnson
Team Manager: S. O'Kelly
Ladies 1st Team
v. City of Peterborough 1 (away), written by Libby Thorne
Lost 3 – 0
Peterborough started strong with the ball and got an instant goal. We then fought back and made a strong defence with Max and Vic Poole making goal line saves. This lead to a couple of really strong attacks which we were close to scoring from. Peterborough upped their game and snuck in another goal making it 2-0 to them. At half time we were all soaking wet but determined to make the second period a better half for us. However, CoP came out with loads of energy and came attacking hard into the D. Unfortunately, an own goal was scored which made the score 3-0. We kept on going and tried to keep our heads up which led to the creation of some promising attacking opportunities. Sadly, we couldn't get the ball across the line. Our heads were going down but we put up a good fight until the final whistle was blown. Man of the match was Angie and Dick of the day was Libby. Thank you to the umpires and supporters at Peterborough.
Mens 2nd Team
v. Brigg 1 (away), written by Chris Hearn
Lost 3 – 1 (Goalscorer: James Youngman)
Lindum 2's travelled to local rivals Brigg 1's for their first Yorkshire Premier League match of the season. On paper, this looked like it was going to be a tough assignment as Brigg had come down from the division above and Lindum gained promotion from Div 1.
The game started at a fast pace but Lindum were holding their own with some good structured play, and it was Lindum who took the lead half way through the first period when a penalty corner was converted by James Youngman. As the half progressed it was obvious that Lindum were not going to be overpowered by their opponents and were giving as good as they were getting. Unfortunately, just before half time the ball broke free to a Brigg attacker at the top of the circle and he powered it home to level the scores at the break.
The second half started much like the first, with both sides playing fast attacking hockey. Brigg took the upper hand again when, after a bit of a scramble in the Lindum circle, the ball broke free to an unmarked forward who slotted home to make it 2-1. Lindum now had to press forward to try and get something out of the game and they came so close when a lovely deflection from Alex Bernstein forced the Brigg keeper into a great save (even if he didn't know much about it). Going into the last few minutes Lindum kept pressing but could not find the goal they were looking for and as they started to tire Brigg broke away and scored again wrapping up the three points.
For a first game at this level and with some of the side having never played together, this really was a cracking effort by all the Lindum lads and there are lots of positives to take forward into next week's game at home to Harrogate.
Ladies 2nd Team
v. Skipton 1 (home), written by Helen Clarke
Won 1 – 0 (Goalscorer: Gemma Barnsdale)
The game started well with Lindum gaining plenty of possession and monopolising most of the pitch in the first half. It became frustrating though as we couldn't find the back board and by half time we were still at a goal less stalemate.
Throughout the game most of Skipton's play was channelled through the centre and in the second half we used this to our advantage working the ball with some excellent sharp triangular passing through the central midfielders to our wingers. This gave us the opportunity to score the only goal of the match tipped in by Gemma Barnsdale.
This was a fairly scrappy match with some very delayed umpire calls but it is still 3 points on the board.
Man of the match was RB Georgie Deacon; whose work rate was impressive second only to her determination.
Ladies 3rd Team
v. Brigg 2 (away), written by Kerry Rough
Won 6 – 1 (Goalscorers: Linsay Pritchard [2], Eve Wilson [2], Zoe Mair, Victoria Michalke)
Saturday 1st October was the first official league outing for the ladies 3s. With a handful of players having played the previous Saturday for the 2s and two friendlies in previous weeks, the girls were not too unfamiliar with their role on a hockey pitch. Having a bare 11 for the match was far from ideal, but within minutes of push back it was clear to see that the Lindum ladies need not fear. An early shot in the opening minutes met with the post, but the shots were followed up time and again in the first half by our girls. Goals from Eve, Linsay and a scrappy own goal (from Zoe's shot) took us into the lead early on in the first half. Unfortunately, a series of penalty corners for the opposition created an opportunity for a cracking left hand corner goal for Brigg. Undeterred, we pushed on to take it to 4-1 at half time.
With a bit of reconfiguration for positions and motivational talking (if I do say so myself!), I declared we were going to score 2 more goals in the 2nd half. Encouraging the girls to push high and keep on creating chances, the ball found the back board twice more, taking the final score to 6-1. Plenty of positives on the pitch and great to see the Men's 2s join us at Brigg for their game following on from ours with plenty of encouraging words. Despite the excellent score line there is still room for improvement for the girls and hopefully a combination of consistency at training and good attitude and enthusiasm will secure us promotion.
Credit to all of those girls on Saturday who kept on going and never gave up, even though I know they were all flagging in the closing minutes. No hat-trick this week, but 2 goals apiece to Linsay and Eve, with Tori and Zoe making up the final couple. Man of the match was shared between Linsay and Eve with 4 votes each.
A sterling first game for our ladies 3s and I am excited to see what this season brings, hoping for promotion to the 3rd division to close the gap with the Ladies 2s.
Mens 4th Team
v. Brigg 3 (away), written by Alex Cooper
Won 5 – 2 (Goalscorers: Tom Rounsley, Bryn Mansell, Kurtis Nelson, Billy Marwaha & Andy Wright)
The Men's 4s went up to Brigg and, as we meet several days before the event, we saw the second half of the Men's 2s playing Brigg 1 up at Brumby Hall. A frustrating game if you're a Lindum fan as the action spanned both areas of the pitch fairly evenly, even if the scoreline didn't reflect that. So it was to be with the Men's 4s.
The game started off with a lot of ball travel going up to the opposition's end down the centre channel, thanks to some great play between Billy Marwaha and Man-Of-The-Match (decided later on, of course) Kev White. As the team gelled, though, it gradually encompassed more of the side. There was plenty of pressure applied onto Brigg but equally, Brigg's breaks were fast and rehearsed, and Lindum's defence were also given plenty to do. At half time, though we had the lead after two goals, it wasn't a comfortable one and mistakes were being exploited by the host team – notably their single goal which left keeper Pete Richards with two players to defend against.
The second half continued in much the same way and at times the match felt like a game of tennis with the ball often travelling the length of the pitch in both directions. Not even Ben Nicholson being sent off (and then being told to sit down while he chatted to the opposition) helped Brigg's cause though they did score a second goal from a well-executed short corner. Thankfully the final 35 minutes saw a handful of great saves on our part and brought three goals in the team's favour though, like the 2s before them, the goal-line didn't feel representative of what had taken place on pitch. Thankfully for the 4s, they were on the right side of it.
Goals came from Tom Rounsley, Bryn Mansell, Kurtis Nelson, Billy Marwaha and an absolute classic from Andy Wright that fooled everyone (possibly including himself) into thinking it was a mis-hit, only to bobble into the bottom right-hand corner. This is how legends are formed!
Ladies 5th Team
v. Hull University 2 (home), written by Laura Latarche
Lost 6 – 2 (Goalscorer: Emma Wright [2])
The 5s got off to a great start in the glorious October sunshine against Hull Uni 2s. New team members hit the ground running and gave it their all in both halves.
Sadly, the opposition found a spot of confidence in the latter part of the first half and scored 5 unanswered goals. The half time team talk was effective, and resulted in a couple of goals for Emma Wright, but Hull also found another.
The final result was 6-2 to Hull, but a spirited performance. Target for next week: Laura wants to hold onto more balls.
Keeping you up to date
Club News & Alerts
Our Sponsors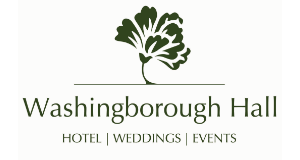 Washingborough Hall Hotel is a stunning early-Georgian building set in three acres of garden and woodland and offers a 2 AA award winning restaurant
Find Out More