Double success for Mens 1st team
Sean O'Kelly and Alex Cooper provide weekend Match Reports for the Mens 1st and 4th teams from the first weekend of October 2017
The men's first team were in league and cup action this weekend and were victorious in both games in contrasting performances.
Saturday 7 October
The 1s continued their positive start to the season with a 9-1 drubbing of Gateshead 1s in a high-tempo affair.
Matt Bell opened the scoring within three minutes, rounding the keeper and slotting into the empty net after a good ball across from Rob Johnstone. Mike White soon made it two, winning the ball outside the opposition 23 and beating two defenders to fire under the goalkeeper. Lindum continued to press high and should've had a third when Cameron Foster was presented with an empty net, only to flick wide. However, it didn't take long for Lindum to extend their advantage with Angus Graham smashing the ball through the keeper on his reverse. Moments later, James Dewhurst scored arguably the best goal ever seen at the Lindum, flicking the ball over his head past the onrushing goalkeeper from a White aerial from inside Lindum's half. Unfortunately, the goal was chalked off, as it was deemed the ball had been thrown into a dangerous area – had this been national league or international level, the goal would've almost certainly stood. A Gateshead backstick allowed a forward to slot under Alan Sanderson moments later to reduce the deficit. But Lindum continued to work hard and Dewhurst was able to add his name to the scoresheet before half-time, slotting in at the keeper's near post from a tight angle. HT: 4-1.
The second half began much like the first, Lindum attacking at pace and creating plenty of chances. It took just under six minutes for Lindum to add a fifth with an unorthodox penalty corner routine found somewhere deep within the routine book. It was White who finished the move off flicking into the goal near post. A quick break then presented Lindum with a 2 on 1 opportunity vs the goalkeeper with Dewhurst squaring for Bell to finish comfortably. Bell then rounded off his first Lindum hat-trick flicking high into the net from a tight angle moments later. Despite Lindum's dominance, a rare attack from Gateshead resulted in a yellow card for Matt Ingram, although it was just a misunderstanding between player and umpire. With Lindum back to 11, White netted his third and Lindum's eighth, lifting the ball over the goalkeeper as the ball rebounded back from a powerful Bell attempt at goal. Rob Johnstone rounded off the scoring with four minutes to play, deflecting in from a Bell lay-off. FT: 9-1.
In summary, a brilliant all-round team performance and a statement of intent to the rest of the teams in the division. With the forwards performing as they are, Ben Rhydding should be concerned about Lindum's visit next weekend.
Team: Alan Sanderson (GK), Ben Leeming, Louie Sadler, Tom White, Ian Ferraby, Sam Temple-Baxter (Capt.), Cameron Foster, Ben Treadgold, Matt Bell, Rob Johnstone, James Dewhurst, Matt Ingram, Angus Graham, Mike White
Head Coach: Gary Johnson
Manager: Sean O'Kelly
Goal scorers: M Bell 3F 49F 51F, M White 6F 41PC 64F, A Graham 15F, J Dewhurst 27F, R Johnstone 66F
MotM: James Dewhurst – great all-round performance
DotD: James Dewhurst – spectacularly bad open goal miss
Sunday 8 October
The performance on Sunday was not quite as emphatic as Saturday, but the men's 1s still came out on top with a 6-3 win over Burton in Round 1 of England Hockey's revamped cup competition – the Men's Tier 2 Championships. Lindum made several changes from Saturday, with Tom Rounsley and Harry Swift coming into the side, as well as debutant Kit Spence.
An error-strung first fifteen minutes was not expected following Saturday's exploits. But Lindum found themselves behind as Burton despatched a drag flick into the top left corner from their first opportunity of the game. This kick-started Lindum into gear and it was an unlikely source that got them back into the game, with Tom White finding the back of the net in a goalmouth scramble. Within two minutes, a great pick from Matt Ingram gave Rob Johnstone the opportunity to smash the ball into the top corner and put Lindum ahead. The lead was short-lived however as a free man at the back of the D was picked out by a cross-field overhead, who finished at the second attempt. Thankfully, within a minute of the re-start, Mike White found himself in enough space to slot past the keeper shortly before half-time. HT: 3-2.
A half-time tactical change allowed Lindum to play with more fluidity and produce less errors, and although they continued to create chances, they struggled to beat the in-form Burton goalkeeper. Louie Sadler was shown a yellow card mid-way through the half in an innocuous encounter with a Burton midfielder. Burton capitalised on the overload and pressured the Lindum defence into a number of errors resulting in a penalty corner. The drag flick was deflected wide by the body of Ian Ferraby and a penalty stroke was awarded. Despite the efforts of Tom "Grobbelaar" Rounsley to put off the stroke taker, it was fired past him into the bottom right corner. 3-3 with fifteen minutes left to play. Lindum re-took the lead with captain, and wizard, Sam Temple-Baxter taking matters into his own hands and firing into the bottom corner with ten to go. As the game headed towards the finish, Lindum's superior fitness paid off and allowed more space, and more opportunities to extend their lead. In the 67th minute, a one-two penalty corner routine resulted in a second for Mike White, before Angus Graham rounded off the scoring. Sadler sent an aerial over the defence and Graham beat a man on the baseline before cutting back to flick past the on-rushing goalkeeper. FT: 6-3.
Although this performance wasn't the 1st team's finest, the team still managed to produce a victory in difficult circumstances. The momentum of another win on the board will stand the team in good stead heading into their tough trip to Ben Rhydding next weekend. And it also provides an opportunity for a cup run, with the next round taking place on Sunday 12 November.
Team: Tom Rounsley (GK), Ben Leeming, Louie Sadler, Tom White, Ian Ferraby, Sam Temple-Baxter (Capt.), Kit Spence, Matt Ingram, Mike White, Rob Johnstone, Angus Graham, James Dewhurst, Harry Swift
Manager: Sean O'Kelly
Coach: George Johnstone
Goal scorers: T White 18PC, R Johnstone 20F, M White 27F 67PC, S Temple-Baxter 59PC, A Graham 68F
MotM: Kit Spence – solid 1st team debut
DotD: Louie Sadler – yellow card
Mens 4th Team
Lindum Mens 4s faced their toughest challenge to date this season in playing host to Chapeltown 2, who had scored 20 goals in two games and sat at the top of the table, at the Lincoln University pitch last weekend. The start was key and the team approached it practically by ensuring that they gave nothing away early on. This lasted for a good 15 minutes resulting in an enjoyable game where both sides built solid attacks and Lindum 4 made plenty of use of their opponent's D.
An excursion into the defensive D by the Chapeltown right-winger was, on early assessment, believed to have been anulled when defender Alex Cooper neatly put in a tackle and placed the ball on the winger's foot. The Chapeltown player then had a shot on goal which was deftly stopped by keeper Pete Richards before then the ball become lodged under his pads and the umpire – not seeing the previous foul – then awarded a short corner to the visitors. This was executed beautifully, it has to be said, and the backboard reported 1-0 to the away side. Lindum rallied and again put the pressure onto the opposition's defence. A handful of short corners were awarded to the home side but alas not converted. The home side's defences continued to collect the pieces of breakaways from Chapeltown; the defensive line-up of Captain Matt Igoe, Andy Wright, Cooper and John Davies generally holding the upper hand until another short corner was awarded and another well executed set piece saw Lindum concede once again. 2-0 at half time.
Following the half time break Chapeltown came back with a higher press than previously and piled the pressure upon Lindum. Despite this the midfield of Billy Marwaha, Steve Deville and a very hard working Furgus Reid saw breaks appear and Ben Nicholson, Sam Gilbert and Kurtis Nelson (putting in an impressive performance) were able to push high and break into the opposition's D. A combination of a strong defence for Chapeltown and a very competent keeper kept the ball away from the goal-line despite several more short corners for the home team. In an attack from Chapeltown a further goal was scored as a result of an attacker calculating the exact place that Andy Wright was going to put his stick down in order to catch Pete Richards off-guard – but at least a Lindum player scored one goal during the game, even if it was in the wrong net. Chapeltown's fourth goal came from a short where the first shot on goal was put into the top corner…
Just as we started, the 4s took a practical view after the game; Chapeltown had a strong team and simply outplayed us despite strong individual performances across the Lindum side. A draw would have been a great outcome but despite three goals that would be open to interpretation, three points were never really in the offering.
MOTM: Steve Deville
DOTD: Andy "own goal" Wright
Keeping you up to date
Club News & Alerts
Our Sponsors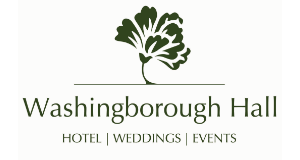 Washingborough Hall Hotel is a stunning early-Georgian building set in three acres of garden and woodland and offers a 2 AA award winning restaurant
Find Out More