Match Reports, 12th & 13th of November 2016
Match Reports this week come in from Ben Leeming, Maxine Clarke, Kerry Rough, Alex Cooper, Mandy Warrilow and Laura Latarche. All match reports are compiled by Sean O'Kelly.
Men's 1st Team
• v. Lancaster and Morecombe 1 (home), written by Ben Leeming
• Won 5 – 3 (Goal scorers: Mike White, George Johnstone, Ric Corbett, Gary Johnson, Rob Johnstone)
Lindum M1s restore order to a chaotic world with first win in 5 games
Lindum Men's 1s started the game inauspiciously with an early chance spurned at the back post by a Lancaster forward, but then hit back with a flurry of attacking play culminating in a Ric Corbett shot striking the post. Lancaster were awarded a controversial penalty flick after an untidy short corner routine, resulting in the first goal of the game. Lindum struck back almost immediately through a Mike White drag flick. Matt Ingram, tired of being restricted to just a stick, attempted to control the ball with his face and received a deep wound in the line of duty. His sacrifice was not in vain. Lindum rallied in the absence of Matt and scored a well-worked team goal, finished by George Johnstone. Ric Corbett increased the lead to two with a tidy deflected finish 5 minutes later. HT 3-1.
The second half began with several short corners awarded to both teams but it was Lindum who scored next at the hour mark. Former hockey player Gary Johnson, lingering like a stubborn cold on the back post, turned in a Temple-Baxter pass after a winding run from the half way line. Matt Ingram, returning to the pitch Terry Butcher-style, put himself in harm's way again, breaking down play and getting a green card for his troubles. Lancaster made the final few minutes edgy for the home crowd, scoring on the 66th and 69th minutes. Lindum had the last laugh, however, Rob Johnstone's deflected shot dribbling over the line seconds before the final whistle. Trois points pour Lindum. FT 5-3.
Next up is a trip to unbeaten league leaders Didsbury Northern 1sts in Manchester.
Squad: Ward (GK), Leeming, Ferraby, T White, Ingram, Treadgold, M White, Temple-Baxter (Capt.), G Johnstone, R Johnstone, Dewhurst, Corbett, Swift, Johnson
Head Coach: Gary Johnson
Manager: Sean O'Kelly
MOM: – Matt Ward – some brilliant saves throughout the game
DOD: – Louie Sadler – il est un garçon très méchant
Ladies 1st Team
• v. Bedford 2 (away), written by Maxine Clarke
• Lost 5 – 0
After a long drive with some interesting junctions and roundabouts the team finally arrive in glorious Bedford. Welcoming new starters to the side we started out strong, attacking straight into their D. Bedford soon woke up to the challenge and retaliated, the game from then on was end to end.
At half time Bedford had scored 2 goals and after an encouraging team talk we went back out fighting. The team worked hard together, fighting until the very last second of play. Our forwards had plenty of shots on target in the D but somehow couldn't find the back of the net. The score does not do the team justice but we will see them again soon on our home turf!
FT: 5-0 defeat.
MOM: Penny Vinter & Libby Thorne
DOD: Emma Geary
Men's 2nd Team
• v. Rotherham 1 (away)
• Won 4 – 2 (Goal scorers: Angus Graham, Ben Lowe, Mark Sadler, James Hillsmith)
The 2nd XI continued their good run of form, defeating Rotherham 1sts for the 3rd game in succession. The win lifts the 2nds up to 7th – they have a game in hand, and victory could take them as high as 5th.
Ladies 2nd Team
• v. Ben Rhydding 3 (away)
• Lost 7 – 0
The ladies suffered their second loss of the season against table-toppers Ben Rhydding. They remain in the hunt for promotion level on points with Tadcaster Magnets 1sts and Driffield 2nds but behind both on goal difference in 4th place.
Men's 3rd Team
• v. Leeds Adel 2 (home)
• Drew 2 – 2 (Goal scorers: George Denham, Will O'Sullivan)
The 3rds surrendered a 2 goal lead drawing with Leeds Adel 2nds. They fall one place to 4th but still hold hopes of promotion.
Ladies 3rd Team
• v. Dronfield 1 (home), written by Kerry Rough
• Lost 3 – 1 (Goal scorer: Charlotte Pell-Reynolds)
After last week's draw against Slazengers, the girls were looking for a win this week. However, availability meant that new faces graced the 3s team this week – all very welcome additions! With a brand new team, the girls started confidently against Dronfield, who had been relegated from the league above last season, and sat 3rd in the table prior to the game. Some great work in the first half led to a series of penalty corners for the Lindum side to result in a cracking goal from CPR. Unfortunately, goals quickly followed, in favour of the opposition. Dronfield were a strong side and we were unable to keep pace on a couple of their girls.
The first half ended 3-1 and after some encouraging words to the girls we went out a bit better in the 2nd half. To have the second half result in no goals scored was a tremendous result for a team who had only met each other a couple of hours earlier.
It takes the Lindum ladies 3s to 3rd in the table and Dronfield take top spot. We face Sheffield Hallam next weekend, who sit 4th.
Goal scored by Charlotte Pell-Reynolds (CPR) and MoM Tori Michale
Men's 4th Team
• v. Huddersfield Dragons 3 (away), written by Alex Cooper
• Lost 5 – 2 (Goal scorers: Ben Nicholson, Andy Wright)
Let's face it, nobody travels the best part of 200 miles to an away game and back, with the intention of letting the opposition have three points and the Men's 4s result on Saturday against Huddersfield of a 5-2 loss certainly doesn't represent that mind-set. Nor does it represent how the game went.
A squad mainly made up of defenders saw Christmas come early for the likes of Max Rutherford, Ben Nicholson and Matt Igoe, who found themselves in the unusual position of seeing several rows of players lining up behind them. A cautious start from Lindum, retrospectively put down to the team lacking a familiarity with one another, saw Huddersfield capitalise on a handful of Lindum mistakes concerning possession. This, allied to some nicely put together set pieces from the hosts, saw the score-line at 5-0 at half time.
Rather than letting the current status of the game get to them, Lindum 4 took a more pragmatic view at the halfway point. It was a far better state of affairs than seven days earlier and, being five goals down, those three points were probably not – at this point in any case – for the taking on this day. So this gave us a 35-minute opportunity to regroup and use the pitch time to get better, to go out with our chins up and, mentally, start over from zero to see what we could achieve. If our season had hit a rough patch, then we could use this time to signal the beginning of our recovery.
The second half saw a far more composed side. With Greg Henderson pushed into the midfield from the defence and working well with Ben Nicholson, we continued to pile pressure onto Huddersfield. It took a while to arrive but Lindum's first goal, courtesy of Ben, at least prevented a clean sheet for the host team. Further opportunities came but weren't quite converted upon until a short corner from Andy Wright found the back of the net. No further goals came from Huddersfield, giving Lindum 4 a 2-0 win in the second half.
Not what we went for but a remarkable turnaround in form and mentality from a team that could have let their heads drop and continued to be battered.
A shout out to John Davies who not only stepped up from the 5s with 90 minutes' notice before we left Lincoln but also put in a sterling performance, working well with Jack Middleton and marking one of Huddersfield's more dangerous players out of the second half.
Man of the Match went to Ben Nicholson who, having already spent the morning fighting off vicious animals, played a critical role in the centre of the formation. D of the Day, unfairly I thought as he was often let down by the team in the first half and left to fend off several Huddersfield players at once, went to keeper Alex Hollingworth (though he also voted for himself which is difficult to defend!).
Men's 4th Team (Sunday – League)
• v. Hull University 2 (home)
• Lost 6 – 4 (Goal scorers: Kurtis Nelson, Kristian Nelson, Matt Igoe, Phee Harrison)
A second defeat of the weekend for the 4ths. They had lead 2-0 before Hull scored 6 without reply. Matt Igoe scored a penalty stroke and Phee Harrison fired in as consolation in a game that could've gone either way.
Ladies 4th Team
• v. Driffield 4 (away), written by Mandy Warrilow
• Drew 0 – 0
It is difficult to write a match report without the focus of how or who scored the goals but this game didn't go without its moments. From goal near misses to falls resulting in bleeding knuckles, to 2 ball to hand injuries to 1 stick to breast and to some changing room "twerking". Both teams set about this game to make an early impression but with some untidy tackling resulting in warnings from the umpires to watch out for stick tackles, both sides calmed down and settled in a good game of hockey. Lindum worked hard to find the net, we pressed, we defended and we back tracked and in the words of Honey G we "shutdown" Driffield on their short corners.
Both teams played well but the winner from today MUST go to the post hockey tea – a lovely large portion of cottage pie and chunky chips – voted by the team as the best tea yet #rateyourhockeytea
Men's 5th Team
• v. Brigg 3 (home)
• Lost 10 – 3 (Goal scorers: Craig Ball (2), Stuart Kirk)
A heavy defeat for the youngsters against 3rd-placed Brigg. They had only been 3-2 down at half-time but a clinical performance from Brigg resulted in the heavy defeat.
Ladies 5th Team
• v. Barton 1 (home), written by Laura Latarche
• Drew 1 – 1 (Goal scorers: Leann Lynch-Anderson)
Lindum ladies 5's played tough opponents Barton 1's who currently sit in the top spot, with Lindum second in the league.
End to end hockey meant we had to dig deep and make everything count. Some strong play coming from midfield created opportunities, however Barton's goalie did a fine job of defending their goal, but not until Leann Anderson chalked the first goal with a reverse stick shot.
We gave away quite a few short corners but defended these keeping the score line at 1-0 right up until the last moments. In the last 10 seconds our goalkeeper, Amy Warne, defended a goal shot but went down injured just seconds before the final whistle blew, thus they slotted into the empty net to equalise. A hard fought game, but some sterling play.
Men's 6th Team
• v. Doncaster 6 (home)
• Drew 2 – 2 (Goal scorers: Paul Topham, John Sisman)
The 6ths remain in mid-table, and are 7 points above the drop zone.
Keeping you up to date
Club News & Alerts
Our Sponsors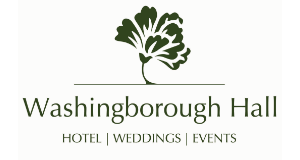 Washingborough Hall Hotel is a stunning early-Georgian building set in three acres of garden and woodland and offers a 2 AA award winning restaurant
Find Out More